Today's internet is not what we knew. Despite the fact, that modern internet sophisticated itself to the edge, still, the common mass is experiencing the insecure, privacy lacking internet till date. One simple way to make your browsing secure in the vulnerable internet world is using a VPN. VPN makes the connection slower than your normal connection but makes it secure and private.
One thing we miss out in this fight is, addressing privacy threats when using a DNS resolver. In case if you are a nontechnical person and don't know what DNS is, then leave it. In short, the DNS is a database of domain names of websites and the IP address of the servers that host the site. When you type in a website name, it is directed to the configured DNS server to resolve. In other words, it converts the human-readable domain name into the IP address of the server.
'1.1.1.1' is not just a fancy IP address like Google's DNS server '8.8.8.8'. 1.1.1.1 is DNS resolving server backed by Cloudflare which claims that all the DNS queries made with it are private and faster than any other DNS.
Private
It is believed that, your DNS queries are logged by DNS servers. That means, the DNS provider at least knows all the sites you visited, if not all of your browsing pattern. Cloudflare's DNS promises that they will never record your DNS queries.
Free & Simple to configure
1.1.1.1 and 1.0.0.1 are the IP address of the DNS provided by Cloudflare. They provide a simple intuitive to configure your phone in one click. No complicated setups, no struggle to configure in both android and iOS devices.
Links to download app: Play Store | Apple Store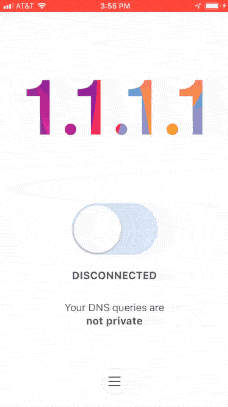 Faster
Cloudflare's DNS proves to be faster than any other top DNS services. There's a detailed breakdown comparison test and its results are available at this link. TL: DR; Cloudflare's 1.1.1.1 is fast. Yes Fast enough.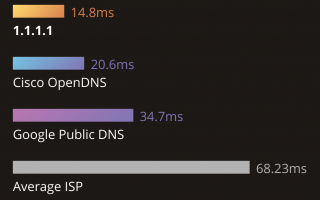 Why Not Try? There's no reason to hold you from trying 1.1.1.1 instead of your default DNS setup. I personally use 8.8.8.8 (Google's DNS) as it is the fastest resolver in my country. 1.1.1.1 app has a permanent place in my android based daily runner though I only use it occasionally.
Cloudflare recently announces its own VPN service called WARP. Literally, WARP is more modernized, advanced yet simplified VPN service from Cloudflare which I eagerly waiting to try. Stay tuned to know more.