I recently subscribed to Setapp, a collection of 240+ apps for a single price.
I explored the apps individually and replaced my former apps with the best ones from Setapp. Especially the one I pay for. Subscribing to Setapp saved me from spending more than necessary for apps.
DayOne is one of the premium apps I use for a very long tie. (Right now It's the second most costly one next to Superhuman)
My DayOne journey
I was using Evernote as my journaling app until 2015. Later I found it was a huge mistake to mingle your notes and personal/emotional content together. So I switched to 2 different apps in the middle and settled finally with Day One.
The app is great. Still, I want to check if something is better to replace it. The only reason I want to replace it is to reduce my spending on apps.
Found Diarly on Setapp.
Diarly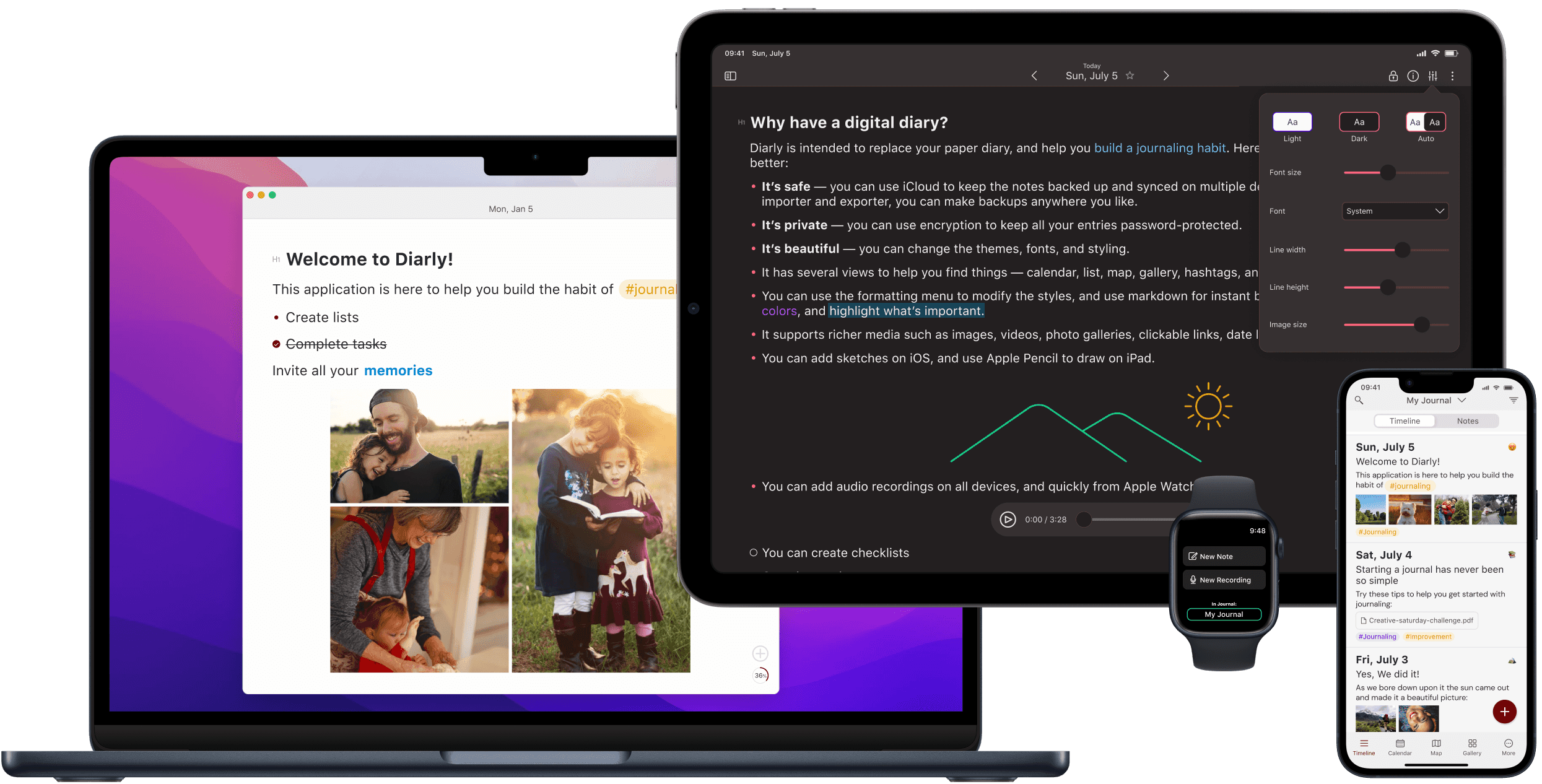 Diarly is one of the contenders when I was choosing my next journaling app around 4 years ago. It was different then. Now it is nicer than before. It went through a huge revamp and has huge upcoming features in its roadmap too.
Yet, can it replace DayOne?
Diarly almost had all the features DayOne has now. It is quickly catching up. I tried the app. So I imported everything from DayOne to Diarly and used it on my Mac and iPhone for a week.
At the end of the week, I switched back to DayOne. Reasons follow…
Diarly saves everything in iCloud. That's a good thing. Secure, private, and faster. But the storage is limited. With DayOne I get unlimited storage space.
"On This Day" section is not cool in Diarly. It's there, but not as functional and useful as in DayOne. The way DayOne populates the event of the past that happened on the same day is quite beautiful. Diarly lacks automatic reminders for this to remind me to visit the "On This Day" section every day. (I like revisiting my past to remember what I learned and how I improved myself).
Lacks templates and prompts
Limited attachment support.
Lacks proper metadata for an entry. In DayOne there's plenty of metadata for each entry like location, time, date, tags, climate, altitude, step counts, etc, etc. Diarly has the ability to add location, temperature, and other relevant data for the entry but only as text inside the entry. This makes the search difficult when you accumulate thousands of entries in the future. And also the export format will not be perfect if you put everything inside an entry as content instead of properly formatted metadata.
Choosing Diarly vs DayOne
Right now DayOne is clearly winning in every aspect except the price point. So now I planned to stay with DayOne.
Diarly is a good app and sufficient for people who do serious journaling but don't rely much on features.
Apple's Journaling App
A paywalled article from WSJ revealed that Apple is developing a journaling app, extending its Health app. The rumor is that it will be released in a few months when introducing the next major version of iOS (17).
Apple as a platform provider has more opportunities and options to make the app better in terms of collecting user data. Apple could collect all data apart from what you could write (eg. your step count, your BP, your heart rate, and the locations you visited, maybe it can even access your call list, and calendar events and can theoretically predict your mood based on your phone activities) and use in-device calculations to make it better (also by protecting your privacy).
There's a lot of potential if the rumored app becomes a reality. But no way to tell it now as DayOne is also equally competing (esp. after being acquired by WordPress/Automattic). DayOne is expanding its platform support, already launched an Android version of the app. Recently released the web access to your journal (which is in beta now).
Stay tuned, Join my mailing list "Better Workflows" to know if there's any update on this topic.