Since I started using Mac, I am using Alfred with 'Powerpack' (premium that costs a few bucks). It was a wonderful experience using Alfred on those days when 'Spotlight' hasn't gained its full potential. I wrote this article couple of years back Save incredible time with Alfred for Mac and was using Alfred together with a few of my other productivity toolsets. For eg. Use Evernote faster with Alfred.
Recently I heard about Raycast. A replacement for Apple's 'spotlight' search feature in Mac. Obviously, Raycast is a contender to Alfred. So I decided to give it a try for a week. Well, originally my plan was to use Raycast alongside Alfred.
After installing it and starting using it, I never looked back Alfred. That doesn't mean Raycast is all the way better than Alfred. But for me, it is. Remember I am not representing the power users who play with Alfred's workflow and automation with fine coding.
There are a few reasons I decided to stick with Raycast or the areas where Raycast shines over Alfred.
Raycast has a very little (easy) learning curve. This is may be because I was using Alfred for more than few years and Raycast is close to Alfred in terms of interacting. With few tries, you can understand how Raycast works while Alfred has somewhat less-steep learning curve than Raycast. For example Raycast few preferences (settings) to tune. Most of the functions are built-in like calculator, seeing calendar schedule etc.
Adding skill to the tool is easy in Raycast. Raycast has an in-built store, where you can find a add-on for a specific functionality and add it then and there. Raycast is relatively new to Alfred, yet it's store has all the specific add-on fuctions I needed. In Alfred, it is difficult for me to build a workflow (custom functionality that users can build on their own, if they are good at coding). To extend Alfred's functionality I used workflows shared by other users in Alfred website. Maybe for a power user Alfred could be the holy-grail. I won't rate Raycast in terms of extending its functionailty with custom coding as I don't do that myself.
I love Raycast UX/UI over Alfred's. I personally think it is far more polished and sophisticated than Alfred.
Utilitarian 'Window management' options. Just invoke Raycast and type "left" and choose "Left Half" from the list to snap your current app's window to tile on the left half of the screen. (Formerely I was using separate app for this. )
I love the ability to access those sub menu options through (Cmd + K) button. It gives more flexibility than I done in Alfred. (If you try it, you'll understand what I am talking)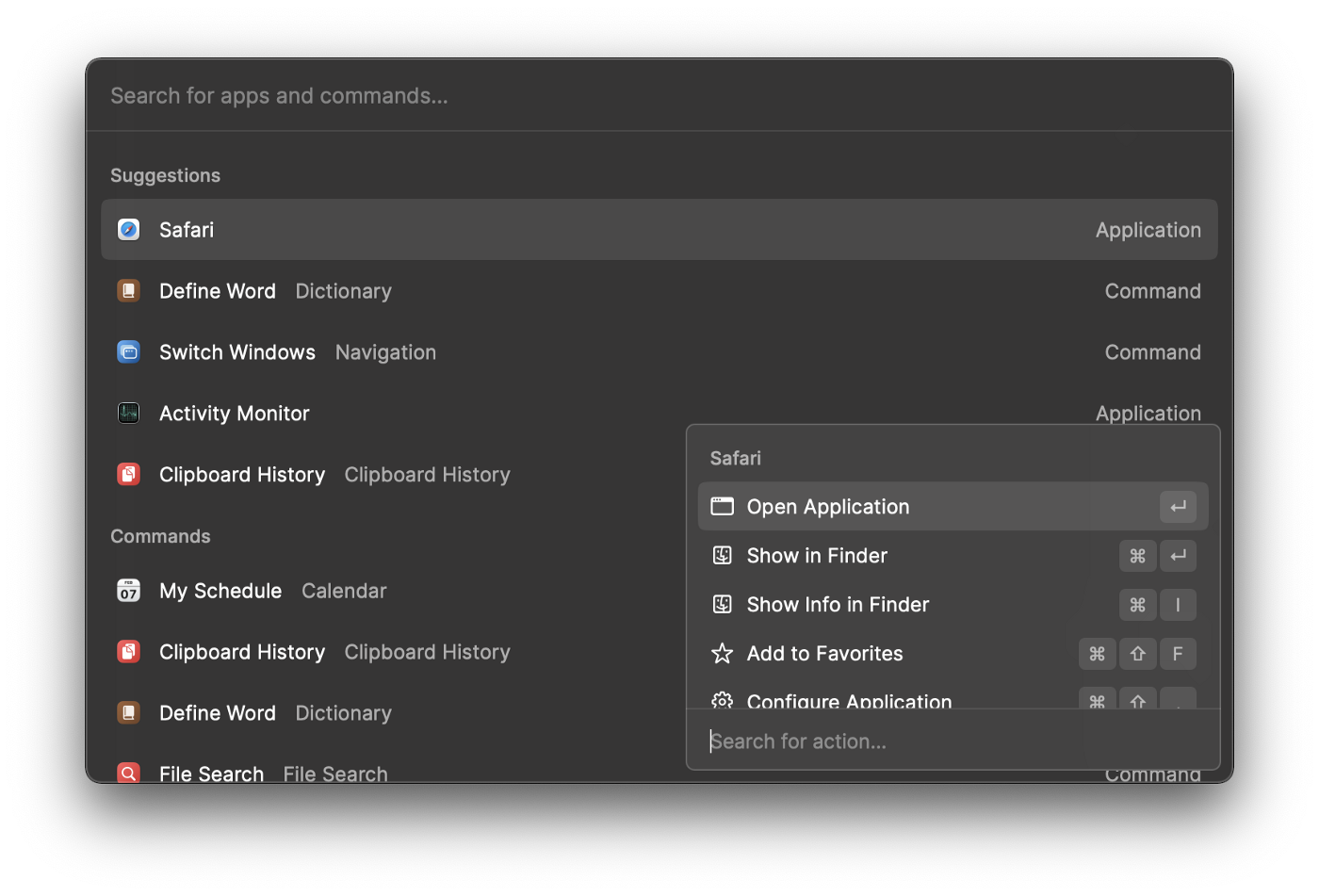 Love the built-in calculator with natural language processing. I like the converters and currency converters with latest currency values.
I love accessing Menu bar menus through Raycast. (Alfred completely misses this feature). For example, if you're using Chrome, and you want to access Chrome's menu (located in the menu bar), you can invoke Raycast while Chrome is open, and (after choosing "Search menu item" from list) type the menu item name, then Raycast will filter out those menu items for you to access. Browsing through menu made simple and firey-fast with Raycast.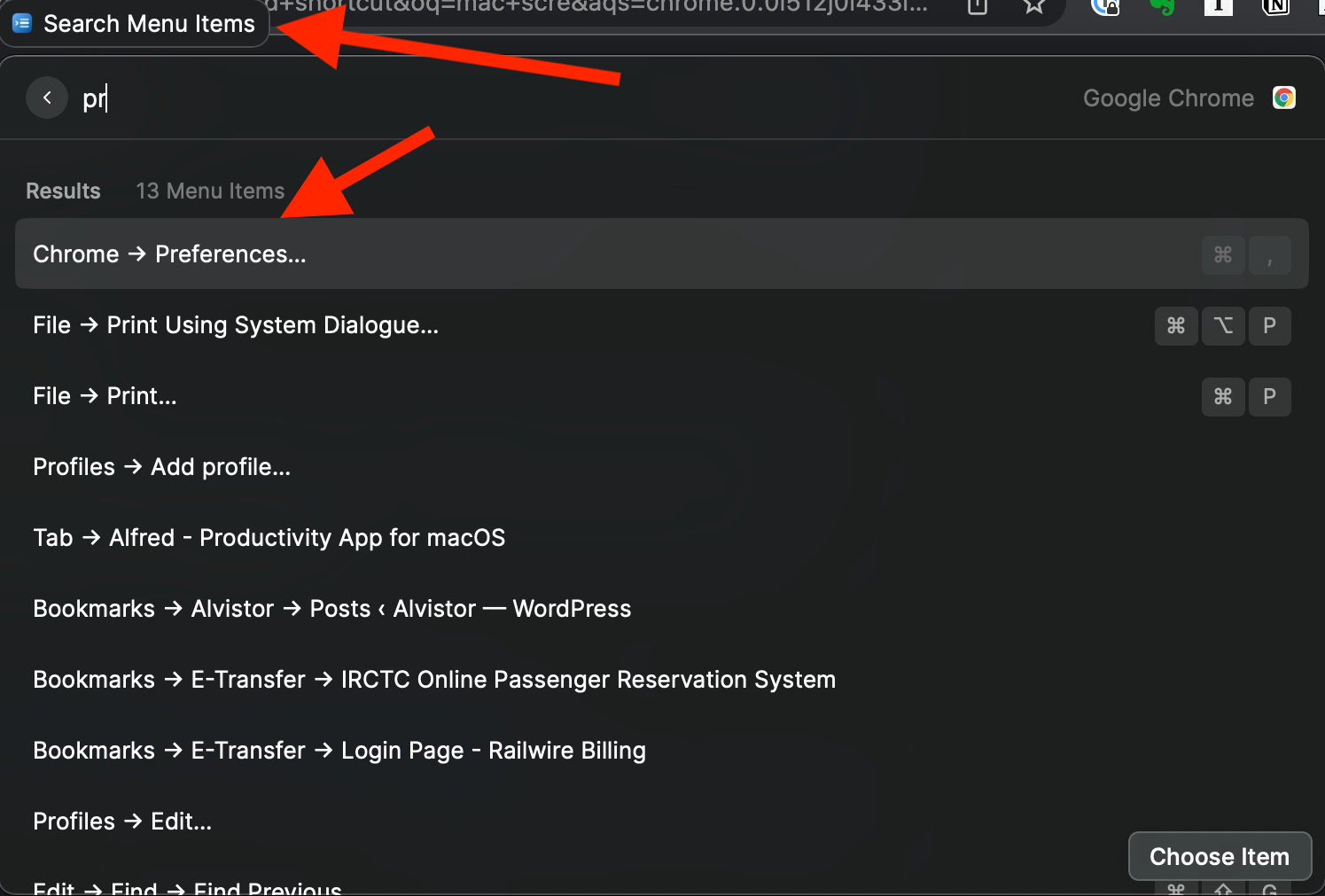 You can see your calendar schedule with Raycast
The store is filled with lot of 'extensions' for many integrations and the list is growing. Unlike Alfred, searching them is easy inside Raycast.
It is completely free to use for personal use.
There's many more tiny reasons. One of it is ease of setting up Raycast. Another one is ability to set up Global shortcut to invoke Apps. I didn't list some of the features that is also available in Alfred like accessing clipboard history, etc.
If you have any other points why other readers should choose Raycast over Alfred or why Alfred is still best, then share them in the comments.
Raycast or Alfred? Apart from personal preference, Raycast is for both beginners and power users and a new contender with full potential. It's better to try once (as it is free). I highly recommend using Raycast in your Mac.
If you like the content, consider signing up for our newsletter. Where you'll get 3 resources, ideas, and a recommendation in every issue.