Your smartphone is your chamber of secrets and smartphone companies understand this. So, they have provided us with the Phone Lock system. You can provide pattern lock, pin, or Face unlock. Nowadays phones have Fingerprint sensor too, to unlock the phones. But what if we forget that security password? Let me ask you, have you ever encountered the situation where you forget your phone's pattern lock? Yeah, I know you did. Later, after numerous useless efforts, we take our phones to the care centres and get these damn things open. But this deal comes with a price of all our data being erased. In this article, I'll tell you simple trick to tackle this situation. I will tell you a simple way on How to Bypass you Android Pattern lock using CMD.
Yes, I am serious. You can bypass your Android Lock using CMD. So, let's clear the basics first.
What is cmd?
CMD, also known as command prompt is an amazing tool provided in Windows OP. You can control your entire computer using CMD which includes copying files from one folder to another, hiding your files, checking details of connected wireless devices and even shutting down your PC. You just need to learn some easy commands.
Now as we know what is CMD, we can proceed further with our topic.
How to Bypass you Android Pattern lock using CMD.
Before trying this secret formula to Bypass the pattern lock you need to check few things first.
1. Make sure to set up ADB (Android Debug Bridge) on your computer.
Download ADB files and drivers.
2. You have enabled "USB DEBUGGING" on your phone.
Go to Settings > Developer Option > USB debugging > Check the box.
Now when you are done and sure that you are following the checklist, follow the given steps:
Plug-in your smartphone to your PC by USB cable and make sure that you have an active pattern lock.
Now right click on ADB folder while pressing the SHIFT key and select "Open with Command Prompt". The mentioned folder will be in Local Disk C.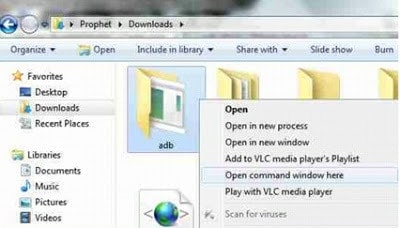 On the CMD window, type adb devices and then hit enter.
Now type adb shell, then hit enter.
The shell will open and after that type su ( superuser, you are now a root user).
After entering, type rm/data/system/gesture.key then hit enter.
Unplug your phone from PC and you are good to go.
You can now enter any pattern on your mobile device and it will accept it without any "Wrong Pattern" notice. After you have opened your Android phone, I advise you to change the password to the one that you can remember.
Note: If you are thinking that bypassing pattern lock will affect your phone performance then you need no to worry.
To change the pattern lock
Go to settings > security > Screen Lock > Change the pattern.
Note: This is for educational purpose. This post in no way encouraging anyone to hack into other's privacy.